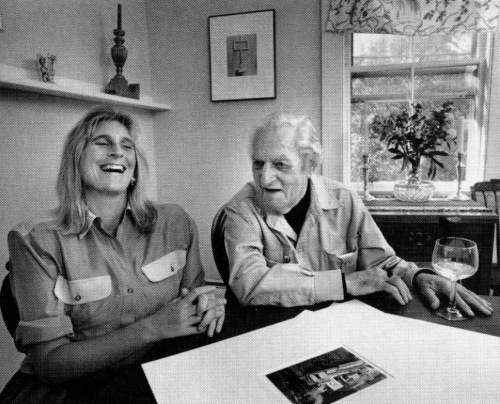 Todd and Lucille entered my gallery and my life in the fall of 1989. I had moved to Maine after having worked in a fine art photography gallery in San Francisco, for photographer Robert Mapplethorpe as studio manager, cataloging the collection at the Addison Gallery, studying American Fine and Decorative Arts at Sotheby's and stints in the interior design and antiques businesses.
I opened my own photography gallery in Downtown Portland. The Webbs were amongst my first and most loyal visitors. I had the privilege of presenting works by Eliot Porter, "oh, we knew Eliot," Eugene Smith, "Oh, Gene used to stay with us in Paris on his way to Spain," Ansel Adams, "Oh, we knew Ansel before he got expensive and grew his beard," Robert Frank,"We met him in Paris and ran across him in New York." I finally asked . . . who ARE you guys?
Thus began a wonderful friendship and partnership which I would describe as fateful and meant to be from both our points of view.
As it turned out, Todd had been a very good friend of Alfred Stieglitz, and hence Georgia O'Keeffe- I wrote my undergraduate thesis on Stieglitz and his influence on American modern painting including O'Keeffe, Marin, Hartley and Dove. I was thrilled to meet such a wonderful pair who embodied so much of the mid 20th century art scene.
Todd and Lucille married "late in life" at ages 44 and 43, and did not have children. My parents were both ailing when I met Todd and Lucille, and the Webbs and I entered first into a business but then easily into a family style relationship. I relished having new elders in my life and they treated me like a daughter. We had similar sensibilities artistically and socially; interested more in the integrity of the work and its presentation than in commercial opportunity. Nonetheless, we did pretty well and had lots of fun.
In inheriting the responsibility for the estate, my primary goal is to continue to educate the public about Todd and his oeuvre.
-- Betsy Evans Hunt, Executive Director